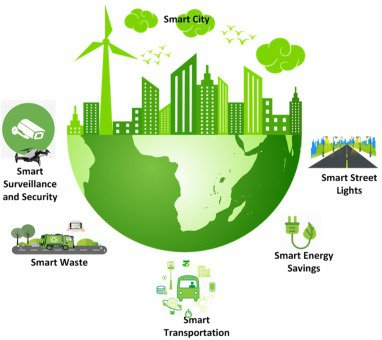 Internet of Things (IoT) devices are enhancing the lives of consumers and companies equally. In addition to automating and enabling remote access to appliances and machinery, they help monitor air quality, water consumption, energy consumption, and many more. Not only that, but IoT solutions also help us understand how we affect the environment and sustainability.
IoT Solutions can
help

cultivate a

sustainable mindset
In today's world, it's essential to build solutions that not only maximize efficiency, productivity, profitability, and simplicity of use but also maximize environmental benefits, such as carbon reduction, efficient resource usage, improved air quality, and more. Providing purpose-built Internet of Things (IoT) services in Pakistan that indirectly raise public awareness about environmental development and sustainability is exactly what we're aiming to do with IoTSol. To give an example, while managing your water resources and automating water pumps is a primary function of IoTSol's IoT-based monitoring system, the system also provides you with a daily reminder of the amount of water saved.
IoT and
sustainability

: how

consumer products

can contribute
We want to provide a smart lifestyle to our customers. Using Comfort's smart home ecosystem, you can enjoy a more comfortable lifestyle while also contributing to a more environmentally friendly world. Smart home automation not only makes life easier, but it also saves money and the environment. Lighting, fans, or heating or cooling spaces not in use are all wasteful energy usages that can be avoided with Comfort's IoT-based smart homes ecosystem.
In a Comforts Smart home, IoT gadgets work together to produce a more sustainable environment. Real-time notifications and remote control of energy consumption are provided by IoT energy meters. With the help of our cutting-edge sensor network, IoT-based commercial building solutions increase worker productivity while also lowering utility bills.
Industrial

IoT can play a major role in

protecting the environment
The use of Internet of Things (IoT) devices extends beyond the home and office to include industrial settings. By monitoring the machinery and equipment that they utilise on a regular basis, some organisations are able to boost productivity. Additionally, this results in smarter use of resources and predictive maintenance, which results in highly efficient machine utilization.
IOTsol's
vision

for a more environmentally friendly

Pakistan
The most exciting thing about IoT devices is they make the invisible visible. IoTSol, a renowned IoT startup in Pakistan, aims to help all Pakistani businesses become environmentally friendly and assist them in becoming Green Companies. Among our IoT projects, we strive to improve the efficiency of businesses while simultaneously reducing their CO2 emissions. We envision a future in Pakistan where industries get tax breaks based on marked improvements in waste pollution levels by using IoTSoL smart industry solutions.